Customer Reviews
10/27/2020
Belinda K.
United States
I recommend this product
Pippa Loves It!
Pippa is a relatively picky feline and I was so relieved that she enjoys the turkey as she needs more variety in her diet. A total hit!
10/26/2020
Stephanie R.
United States
07/06/2020
Rocket, G.
United States
I recommend this product
Meowvelous and delicious!
Mom bought us this food to try because friends of ours raved about it, and she wanted something simple that she could thaw quickly. To her delight we ate every single bite and licked the bowls clean! Cat dad was super impressed with how they shipped the products--it took him 10 minutes to unpack it and everything was still frozen solid. And we absolutely LOVE the space age crinkle paper that came inside, too! Mom said something about great ingredients and whole foods instead of a bunch of synthetic vitamins and stuff...but we just think it's delicious. Please send her some more!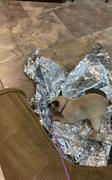 03/22/2020
Babette B.
United States
I recommend this product
Just Cat
10 Star. The quality of Fetching Foods is far superior to all other Raw Cat Foods that I have purchased (and I've tried all the well known and smaller brands.) Now that I know this- I won't use any other. So grateful to Fetching Foods! I know my babies are now fed the best food possible.
01/01/2020
christine c.
United States
Food
My cat loves the turkey most and then chicken.